Roho Ya Chui "soul of leopard", your expert
The Mourning of a Lioness in the Masai Mara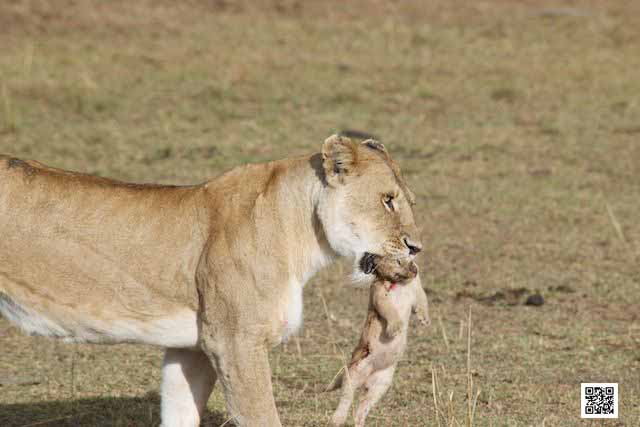 It was on a
morning game drive
in the Masai Mara when we spotted a lioness lying on the grass and holding something between her paws. It looked like a small animal and we thought it might be a hare or other small animal she was feeding on. But she was not feeding. She was holding it and looking around as in despair. As we came closer we saw that she was holding a little cup between her paws and the cub was not moving, it was obviously dead, only a few weeks old. The lioness started licking the cub, moving it with her paws, trying to revive the little body, but it wouldn't come to life. Between her attempts to revive her cub she was looking up, opening her mouth as if she wanted to scream, but no sound was to be heard, it were silent screams of sadness and pain of the mother of a lion cub.
After a while she stood up, grabbed her cub with her mouth and carried it into higher grass. There she put her cub down and stood there looking at it until she moved away to a nearby tree. The lioness lay down under the tree, closed her eyes and rested. She stayed there for hours. In the late afternoon she got up and walked back to her dead cub. Then started eating her cub, maybe in some attempt to make sure that it goes back to where it was safe. After this final act of mourning the lioness left the site and walked back to the rest of the pride that had been waiting for her on a close by clearing. They had respected her need to mourn and she had taken the time she needed.

Nature will bring her straight away into estrus and she will have new cubs with hopefully a happier ending.


Ute Sonnenberg for
www.rohyachui.com